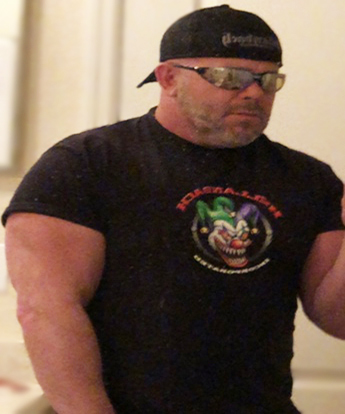 Tom Reinhart is a unique and exciting author. Born in New York, he grew up a fan of comic books, Robert E Howard, and guitar playing. He's down to earth, easily approachable, loves his readers and hanging out with them. His writing is fast paced, brutally honest, and his books tend to take off with an exciting start right from page one. His writing is powerful, often almost poetic, and easily instills vibrant imagery in a reader's mind through words that are perfectly weaved together. You don't just read a Tom Reinhart story, you live and feel it.
His unique writing style can be found in these great books;
The 8th Day, an apocalyptic thriller set against a biblical backdrop. What if Judgment Day really came? "All their lives people had prayed to God, prayed for a sign, prayed for angels to intervene in their lives. They finally got what they wanted, but it wasn't the answer they were hoping for. Now the dead no longer sleep, the living cannot die, and the world has become Hell on earth." A powerful unflinching thriller that gives you a ringside seat to the end of the world.
The Mason Stone series, a vigilante thriller, a love story, and an interesting introspective into the darker side of the human mind. Mason Stone is a police officer with a unique outlook on the world. Jaded, cynical, and fed up with the evil of the world, he takes the law into his own hands. Not your typical vigilante tale, Tom Reinhart's deep and intense writing style takes the reader down a dark path that is all at once frightening and enlightening, and will have you questioning the reality of the society around you, and cheering for a killer.
Hegemonian, a Robert E Howard inspired Sword and Sorcery adventure. It's packed full with everything Sword and Sorcery fans love, Minotaurs and monsters, witches and sorcerers, and non-stop adventure. "Hegemonian harkens back to the golden days of epic pulp fiction, the era that spawned what today we call "sword and sorcery" fantasy. Clearly, author Tom Reinhart has based his own epic hero, Lucan, upon Robert Howard's Conan the Cimmerian, and like Conan Lucan is a northern barbarian who leaves his savage homeland in search of adventure. Though Reinhart's inspirations are obvious, he manages to make Lucan a distinct character with his own personality, and if Hegemonian is in some ways a Howard pastiche, it is far superior to most of its cousins in that field. To say that Reinhart's novel is action-packed is an understatement, as he subjects Lucan to one deadly encounter after another with undead warriors, giant spiders, and wicked enchantresses. And all that's even before he reaches the big city, with all its "civilized" politics, backstabbing intrigue, and a war in the offing! Exciting and imaginative, Hegemonian is an amazing literary epic that all fans of classic sword and sorcery should read with relish.
Das Vampir, a series of short stories that are horror tales designed to make vampires scary again. "Das Vampir is an excellent and rather retro treatment of the vampire legend that restores the eponymous monster to its horrifying roots. Rich, dark, and invested with a ruthless malevolence from the get go, author Tom Reinhart instills his short story with more horrific charm than any number of longer works. The human characters are quickly drawn but surprisingly well developed, and when the undead monster from the night descends upon them the suspense is nearly unbearable. A well-wrought tale that fans of real vampires–that is, the kind that don't sparkle–should uniformly treasure."
From the author ~ "It's my hope that readers will enjoy reading my books as much as I have enjoyed writing them. There's a lot more coming. I consider my readers to be my friends, and I am their biggest fan. Come hang out with us at www.TomReinhart.com and social media sites everywhere."